In February, when Amelia Fitch was announced as a Gates Cambridge Scholarship recipient, there was a lot of excitement on campus. It was the first time a UO student had been selected for one of the coveted 35 spots to pursue the opportunity, fully-funded, for a Master's at the University of Cambridge.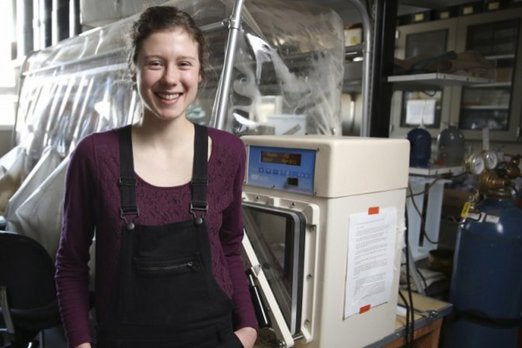 What are distinguished scholarships?
Distinguished scholarships are competitive national and international grants for high-achieving students who show promise as future leaders in their fields. A variety of scholarships are available, including those for students who wish to pursue:
Graduate study in the UK or Ireland
Undergraduate study and research in the sciences
Graduate study in public service in the U.S. or abroad
Undergraduate science internships in Germany
Intensive immersion experiences in critical languages (graduate and undergraduate level)
Independent research or teaching assistantships worldwide (graduate and undergraduate level)
A new home for distinguished scholarships
Thanks especially to Dave Hubin in the offices of the Provost and President, and to Lexy Wellman in the Dean's Office in CAS, there has been for some years now an extraordinary effort to support students like Amelia in the pursuit of such opportunities. However, the UO has never provided a centralized place or centralized support for distinguished scholarship applicants on our campus. Until now. Led by Associate Vice Provost Josh Snodgrass, the new Office of Distinguished Scholarships (ODS) is housed in the Division of Undergraduate Studies and works in partnership with the Office of International Affairs (which oversees the DAAD-RISE, Boren, Gilman, and Fulbright Scholarships) and a group of faculty and staff scholarship specialists across campus. ODS mentors students in the pursuit of these honors and works with them through the application process.
A key priority for the office is to invite students early in their UO careers—as early as their freshmen year—to begin thinking about these opportunities, and positioning themselves for future success. Indeed, this point was central to Josh Snodgrass' presentations at IntroDUCKtion. He encourages students to get to know their faculty, seek research opportunities, dedicate themselves to causes that are meaningful to them—and visit the Office of Distinguished Scholarships to discuss their future goals and how a distinguished scholarship might help them realize these ambitions.
How can you help us in these efforts?
Plant the seed about Distinguished Scholarship opportunities in your students.
Refer your students to us.
Invite us to present to your staff and students.
---
Drop-in advising for Distinguished Scholarships and Undergraduate Research: Monday to Thursday, 4-6 p.m. in Global Scholars Hall room 104.
Questions? Contact Sharon Kaplan, Program Coordinator, or J. Josh Snodgrass, Director, Office of Distinguished Scholarships, dsinfo@uoregon.edu
Check out the Office of Distinguished Scholarships' new website