Three UO professors receive 2022 Faculty Research Mentor Award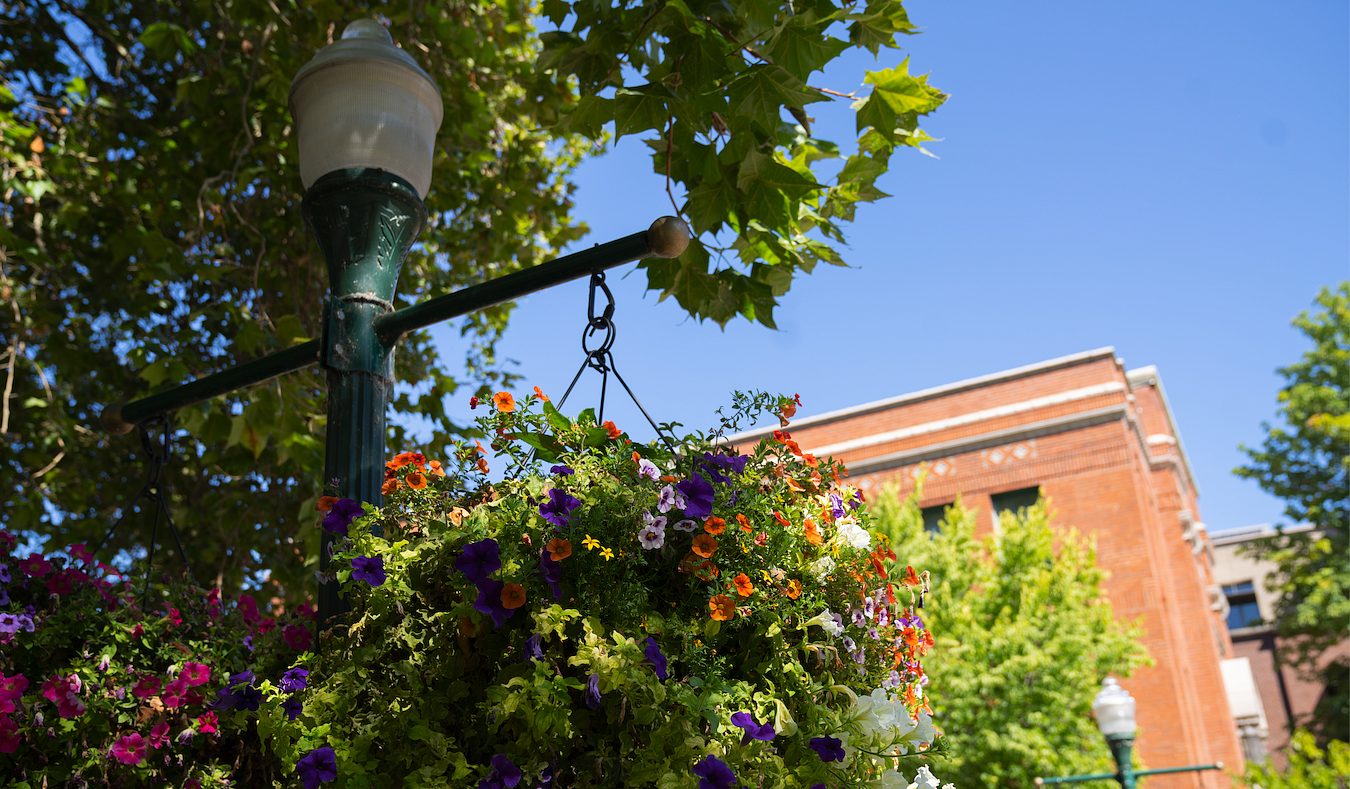 June 17, 2022
Three University of Oregon professors were selected for this year's Faculty Research Mentor Award, including the late Professor Sarah DuBrow who died of cancer earlier this year. Maile Hutterer and Steven Brence received their awards at the Undergraduate Research Symposium in May, and DuBrow's husband, Ben Hutchinson, was there to accept on her behalf. 
Every year since 2018, the Center for Undergraduate Research and Engagement (CURE) has celebrated truly exceptional mentoring of undergraduate students engaging in research, creative work, and experiential learning.  
Many faculty members were nominated this year, with recommendations coming in from colleagues and current and former students. Winners receive a framed certificate and a $2,500 prize. 
MAILE HUTTERER
Two of the three awards are funded by CURE, and the third, which is funded by the Clark Honors College, went to Hutterer this year. She is an Associated Professor in the College of Design's Department of the History of Art and Architecture.  
Hutterer's students have claimed they feel supported and challenged by their professor who creates a space where students from all backgrounds feel welcome and encouraged to pursue an academic career in Art History. 
Hutterer said winning the award was incredibly humbling for her.  
"I see one of my primary duties to be training students how to be rigorous investigators. This is one of the ways in which my work can have immediate, positive, and transformative impacts. Knowing that a student found our mentoring relationship to be rewarding is affirming and validating of that work," said Hutterer. 
Mentors have also played a significant role in her own life, from her dissertation advisor, Martin Trachtenburg, to former colleague Carla Yanni. She believes that with mentorship, everybody wins. 
With the award money, Hutterer will be taking her husband out to dinner to celebrate, but most of it will go toward her research trip this summer. She will be studying Gothic churches in France. 
STEVEN BRENCE
At the symposium, Hatfield described Brence's work advising Senior Honors theses as extensive and longstanding. Brence is a Senior Instructor of Philosophy and a Pre-Law Advisor in the Department of Philosophy in the College of Arts and Sciences. He has helped students transition successfully to top graduate programs and career pathways. 
One recommender highlighted Brence's inclusion of diverse voices in his teaching, such as works from postcolonial theorists, African-American writers, and ecofeminist philosophers: 
"This kind of teaching strategy not only broadens the diversity of voices in what is traditionally a very canon-laden course, but at the same time engages students in broader debates about the relevance and significance of logic for social life." 
Brence offered his thanks to his own mentors and to the many talented and dedicated students he's worked with over the years as well. 
"I have always measured my own successes as a teacher and mentor by the successes of my students, both at UO and in subsequent life," said Brence. "I sincerely hope that this award may stand as recognition of their achievements as much or more than of my own."
SARAH DUBROW
DuBrow was Assistant Professor in the Department of Psychology, within the College of Arts and Sciences, and was a champion for students underrepresented in higher education. This was the second year that student Erika Moe nominated her for the award. Moe was an undergraduate research assistant in the professor's cognitive neuroscience research lab. 
"When she passed away, my second nomination had to be successful. There was no other option. Nominating her for this award was the least I could do after all she had done for me," said Moe. 
In November 2021, DuBrow and her husband Hutchinson welcomed a daughter. She started having symptoms at the end of the year, but they were attributed to her pregnancy, Hutchinson said. DuBrow was diagnosed with Stage IV gastroesophageal cancer that December and died six weeks later in February. 
"Experiencing such a deep loss right when our new life as a family was starting was something so unexpected and horrific that it is difficult to adequately put into words. The outpouring of support for myself and my daughter that followed Sarah's passing was a moving and powerful reminder for me that the two of us were not alone," Hutchinson said. 
A GoFundMe was created following DuBrow's death to raise funds for her daughter's college tuition, surpassing $100,000.  
Many wrote letters nominating DuBrow for the award, sharing how she affected their lives. 
"It is profoundly sad, and a loss for the community, that future students will be deprived of her presence, but it was also touching to learn more about how she impacted those she mentored so quickly after becoming a professor," Hutchinson said.  
Writing about DuBrow was incredibly painful for Moe. 
"I tried to channel that pain to my nomination letter so the committee could feel, if only a fraction, of what I was feeling," Moe said. 
It was DuBrow who set Moe on a path toward pursuing an MD-PhD in neuroscience. She is currently a senior human physiology major and hopes to apply to medical school in June. 
The beloved professor introduced many students to the world of research and made them feel comfortable in the environment, which can be intimidating to newcomers. Moe said she developed a lot of confidence learning from DuBrow and went on to work on her own study with her help. 
But that wasn't the only way Moe connected with her mentor. As someone from a mixed ethnic background, Moe said DuBrow was one of the few professors who was able to understand her struggles on a personal level as she was also of mixed race. Moe, who is Dumagat, Igorot, Caucasian, and Ojibwe, said she never fit in and was disheartened by the lack of representation in academics. DuBrow's door was always open to her when she wanted to talk, and the professor hosted workshops throughout the year focused on issues surrounding diversity in the field. 
DuBrow also wrote many recommendation letters for her students, and one of those helped Moe land a spot at a multi-summer neuroscience research program at Johns Hopkins. Moe said DuBrow was even writing letters for her students before she passed away, in case they would need them. 
Moe, who mentors freshman students through the First-Year Interest Groups (FIG) program, said DuBrow taught her the value of mentorship, and she plans to pay it forward in her future career. 
"Professor DuBrow gave me a chance when no one else would, was the spark for many other amazing things and she gave me the confidence, resolve and drive to continue pushing forward, even when things seem insurmountable," Moe said. 
For more information and support with undergraduate research please visit the Center for Undergraduate Research and Engagement (CURE) https://cure.uoregon.edu/ and email uocure@uoregon.edu. 
 -- By Chelsea Hunt, Office of the Provost