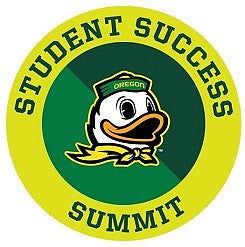 STUDENT SUCCESS SUMMIT
Achieving equitable student success
June 1, 2023
The Student Success Summit will convene UO student-facing staff and faculty for a half-day of learning, networking, and sharing of student success best practices around the theme of "Achieving equitable student success."
Goals for the event include promoting a culture of equitable student success; creating a shared understanding of institutional student success priorities and current equity gaps; and surfacing institutional barriers impeding equitable outcomes while celebrating successful practices. The discussion will focus on sharing ideas for solutions and connecting them to actions. 
Student Success is key part of all of our everyday work and developing fruitful partnerships is paramount in supporting our students.
When: Thursday, June 1, from 10 a.m. to 4 p.m.
Where: Erb Memorial Union, Ballroom
Who: UO faculty, staff, administrators, and graduate employees who support the success of our undergraduate students
Opening Session (10:00-10:50am) 
Welcome 

Next Generation of Student Success priorities 

Opportunity gaps in student outcomes 

Student Achievement Goals and Program Assessment efforts 
Session I (11:00-12:20pm) 
Exposing Institutional Barriers 
In this session, we will review and discuss the institutional barriers that impact our ability to achieve equitable outcomes for student success. We will reflect on policies, procedures, and systems that traditionally underrepresented and underserved students can thrive in, and what institutional practices and strategies we can enact to remove barriers. 
Lunch
Keynote Speaker (12:45-1:45pm) 
dr. becky martinez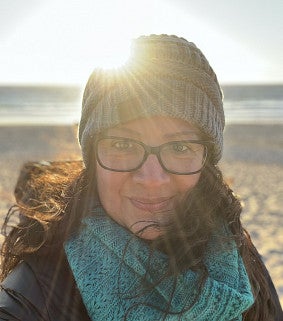 dr. becky martinez is a Mixed Race, Mixed Class Woman of Color and has learned to hold the dynamic of "both/and" due to these particular identities. She is a proud aunt, friend, forever learner, person that likes to run, student of nature, fan of ice cream and hopes to always be in process. In her work as consultant, facilitator and coach centering social justice, becky values opportunities for people to find their humanity.
She creates space for critical reflection and learning to increase self-awareness for sustainable movement and change with the understanding that systems are created and maintained by people, people have the capacity to change, and that change has the capacity to shift systems. Her work provides concepts, skills and tools to engage systems of power, privilege and oppression for more inclusive and equitable policies, practices, norms, structures and simply, ways of being. She works with a range of groups within higher education and with non-profit organizations. She is a member with the Social Justice Training Institute, a Co-Lead Facilitator for Leader Shape, a Foundation Board member with the American College Personnel Association, Intercultural Development Inventory qualified administrator, a former certified trainer for the Gay, Lesbian & Straight Education Network and counselor-advocate through Peace over Violence.
While DEI-centered work is complex, complicated and sometimes messy, it is also joyous, soulful and liberating, and gets us and organizations closer to our shared humanity. On any given day, becky enjoys digging deep into the complexity of social class and class(ism) in inclusion work. She forever appreciates asking "what is your class story?" and is grateful for the rich accompanying stories that follow. To learn more about dr. martinez and her work visit: www.infinitymartinez.com
The keynote address will be available to be viewed remotely. Register here to receive a link.
Session II – Breakout Sessions (2:00-3:20pm) 
Thriving not Surviving 
Facilitator: Amy Hughes-Giard, Assistant Vice Provost for First-Year and Transition Student Experience 
Thriving is the key to true student success. Students who are thriving are not only academically successful, but they are also engaged in the learning process, experience a sense of belonging, and have an awareness of well-being. In this interactive session, we will discuss best practices in supporting students so they can thrive, programmatic areas to strengthen, and develop new ideas, strategies, and techniques to implement change. Participants will leave with one idea or goal to work on over the next year. 
Bridging the Gap: Promising Practices at UO 
Facilitator: Grant Schoonover, Assistant Vice Provost for Academic Success
In this interactive session, we will explore two recent strategies the UO has employed to support students transition from high school to college: Strong Start Summer Bridge and the College Transition Collaborative Social-Belonging Intervention (recently featured in Science). Both are aimed at improving support for historically underserved student populations and initial results suggest they're making a difference in narrowing longstanding equity gaps at the UO. We'll share results, evidence-based strategies that underpin these initiatives, and discuss implications for our shared work with students. Participants will help inform future priorities and leave with practical strategies for in and out of the classroom.
Exploring Access to and Impact of Advising
Facilitator: Jesse Nelson, Assistant Vice Provost for Advising and Accessibility
In this interactive session, we will review recent data related to student access of various types of advising and how these services impact the UO student experience. We will take a focused look at incidences of inequitable access and impact, student experience, and identify strategies for achieving greater equity. Participants in this session will gain a deeper understanding of advising at UO and will assist in our collective development of priority strategies to strengthen advising services. 
Ready For Takeoff:  Systematic Approaches to Embedding Career Readiness into the Student Experience 
Facilitator: Gene Rhee, Executive Director, Mohr Career Services; Jessica Best, Director of Career Strategy, Mohr Career Services; and Paul Timmins, Executive Director University Career Center 
In this interactive session, we will facilitate an action-oriented conversation on how we might increase student career success in an equitable way, grounding it in national and UO data on career outcomes. For inspiration, presenters will share work that has already been done through the UO Career Readiness CAIT and Lundquist Career Fundamentals to make career development more urgent for students. Participants will leave the session with tools and ideas to integrate career readiness into their students' experience. We encourage teaching faculty, faculty with curriculum oversight, student services staff, student staff supervisors, and anyone who interacts with students to participate. 
High Impact Practices: Navigating the Path to Achievement 
Facilitator: Kevin Hatfield, Assistant Vice Provost for Undergraduate Research and Distinguished Scholarships 
The focus of the session will be on actionable steps that can be taken to advance high-impact practices (HIP) on both an enterprise-wide and unit level, in order to address disparities in student participation and engagement. The discussion will cover a range of topics, including the intersection of Undergraduate Research with related AAC&U-defined HIPs — Learning Communities, First-Year Seminars and Experiences, Internships, and Capstone Courses and Projects; national and institutional data; and the structural and institutional barriers that impact on student populations (BIPOC, first-generation, non-traditional, and low-income students). This session will inform our future strategies and encourage each participant to consider concrete steps they can take in their area.
Closing Session (3:30-4pm) 
Wrap-up and closing remarks