11:00AM - 12:30PM, Tuesday, Feb 2
Keynote: The College Completion Movement: Pathways for Momentum in this Moment
By Dr. Dhanfu Elston, Chief of Staff & Senior Vice President for Strategy, Complete College America
Complete College America (CCA) has created a comprehensive sequence of evidence-based strategies to eliminate structural impediments, better support student success, and increase graduation rates for all students, especially those most minoritized in higher education. Session participants will receive updates on national Game Changers, advisement strategies, and proven practices that must be implemented to accelerate retention and completion in the pandemic moment. Immediately following the presentation, audience members will engage in an honest question and answer session of implementation challenges and future directions for the college completion movement in the midst of a national pandemic and increased focus on racial justice.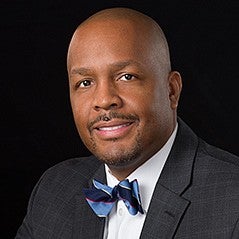 Dr. Dhanfu E. Elston (pronounced: dah-nee-foo) serves as Complete College America's Chief of Staff and Senior Vice President for Strategy where he utilizes his national policy and campus expertise for practical application, implementation, and scaling of CCA strategies at institutions throughout the United States. He provides oversight of national external partnerships and has led CCA's pathways initiatives, the Purpose First career alignment strategy, 15 To Finish national campaign, technology Seal of Approval, and scaling standards to close achievement gaps. Elston has also coordinated relationships with Governor's Offices, higher education state-wide systems, and national partners in their college completion efforts. Recently, he launched a national initiative with the Thurgood Marshall College Fund to amplify completion efforts at Historically Black Colleges and Universities and minority-serving institutions. Over twenty-five years of his higher education career in academic and student affairs, Elston has created and implemented comprehensive success and retention programs that have garnered national attention. He has been recognized as a champion of college completion policy initiatives at institutions that educate highly diverse and underrepresented student populations.
Dr. Elston earned a Ph.D. in Educational Policy Studies from Georgia State University where he conducted research in student retention, intercultural relations, learning communities, leadership development, and Historically Black Colleges and Universities. Elston is a member of and has held leadership roles in numerous professional associations, including NASPA – Student Affairs Administrators in Higher Education (past Chairperson of the African American Knowledge Community), Association of Fraternal & Leadership Values (Board Member), NACADA: The Global Community for Academic Advising, LeaderShape, Inc., American Educational Research Association, Golden Key International Honour Society, Omicron Delta Kappa National Leadership Honor Society. He is a Life Member of Alpha Phi Alpha Fraternity, Inc.