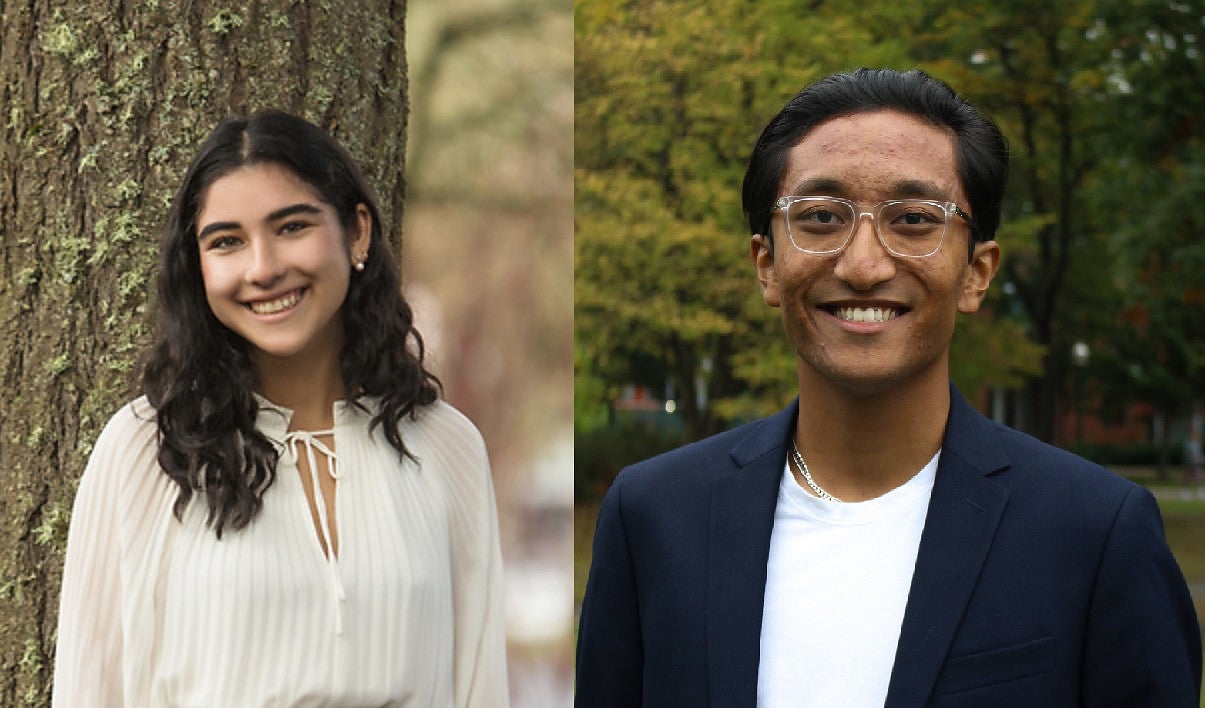 UO students Luda Isakharov (left) and Kavi Shrestha (right) have been chosen as finalists for the highly competitive Harry S. Truman Scholarship.
Every year, the Harry S. Truman Foundation awards prestigious scholarships to roughly 60 college students across the country who have demonstrated leadership in public service. The awards provide students with up to $30,000 in funding for graduate study in a field of their choosing in pursuit of a career serving the public. Around 200 students are generally selected as finalists.
Both Isakharov and Shrestha are juniors and graduated from high school in Oregon, hailing from the Portland area. They share an interest in student government, serving, respectively, as the President and Vice-President of the Associated Students of the University of Oregon (ASUO) this year.
Isakharov of Hillsboro is majoring in Political Science, Global Studies, Russian and Eastern European Studies. She was one of only 25 undergraduates accepted to the Wayne Morse Center for Law and Politics Scholars Program for this academic year.
Outside the classroom, Isakharov was elected to ASUO after running on a platform challenging traditional "insider" politics and endeavoring to expand voter participation and inclusive representation. She also serves on the UO's Tuition and Fee Advisory Board.
Isakharov has a passion for serving immigrant and refugee communities and has worked with local non-profits to identify culturally informed policy approaches and resources for immigrant and refugee communities in Oregon.
She hopes to attend Columbia University's School of International and Public Affairs to pursue a Master's in Public Administration focusing on urban and social policy.
Shrestha of Tigard is a Global Studies and Political Science major and member of the UO's Clark Honors College. He is also a Wayne Morse Scholar this year.
Shrestha has been active in student government since high school, launching the Tigard-Tualatin Student Union— a student-led educational advocacy organization – to help reform a "pay-to-play" fee for high school sports and arts participation.
Within ASUO, he has advocated for better communication to students and helped lead an effort to revitalize the Oregon Student Association, a statewide advocacy group.
Interested in public health reform, Shrestha plans to pursue a Master's in Public Health and a law degree after graduation.
Both Isakharov and Shrestha will travel to Seattle to interview for the scholarship in early March. The Office of Distinguished Scholarships is covering travel expenses for the two students through the newly launched Undergraduate Research and Distinguished Scholarships Impact Fund.
ODS wishes to acknowledge UO alumni Sue Ringoen, Andrew Lubash (2014 Truman Scholar), Sravya Tadepalli (2021 Truman Scholar), Professor Casey Shoop, and Kimberly Koops-Wrabek for their support of the UO Truman Scholarship endorsement process.